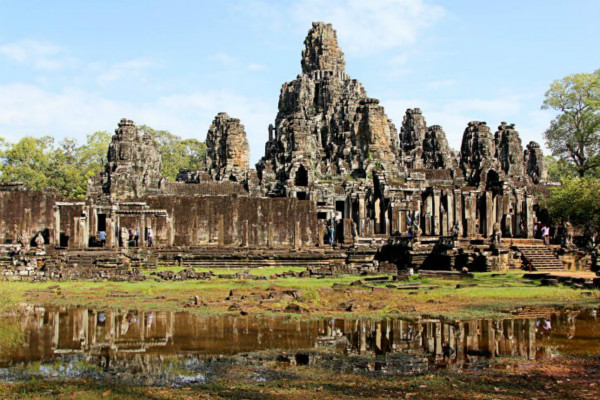 Chinese President Xi Jinping went on an official visit to Cambodia in October 2016 to anchor down the already-strong two-way relationship between the Cambodian kingdom and the socialist state. Part of this visit was to further develop the comprehensive strategic partnership inked in 2010. The Chinese leader hoped to hail the visit as an example of cooperation between two states with their own idiosyncratic political systems.
This was actually Xi's first visit as President. When he last went to Cambodia, he was still Vice President. That took place in 1999. The triad of leaders that Xi met in Cambodia were: King Norodom Sihamoni, Queen Mother Monineath Sihanouk, and Prime Minister Hun Sen. As a prelude to his arrival, Xi's article in the Cambodian press was published.
China in fact ascended to being Cambodia's tightest partner after the latter experienced difficulties in relations with the West due to differences in ideas and perceptions of human rights and democracy. Bilateral relations went a lot way due to charismatic Prince Sihanouk's closeness with Beijing. Both countries established relations as early as 1958.
The economic significance of Xi's visit is strong. Faced with challenges in natural conditions that made rice-growing and harvesting difficult, Cambodia reached out to Beijing for USD 300 million in funds, greater imports of Cambodian bananas and rice, and a pledge of USD 600 million in aid over the next 3 years. Bilateral trade was USD 4.4 billion in 2015.
External factors were also laid out in the agenda, including geopolitical developments, the military-security situation in East Asia, and their looming impact on regional trends. Cambodia has been described as a friendly partner state and the destination of military aid from China including military equipment, weapons systems, training regimes, and a soft loan to buy a dozen Harbin Z-9 helicopters. Military trucks and the same model of helicopters had been donated to Cambodia before.
The Army Institute in Cambodia — founded in 1999 — was made possible with help from the People's Liberation Army. Between 2009-15, about 200 Cambodian cadet officers took up 4-year courses designed by China's Ministry of Defense whose consultants work with Cambodian offers in the training arena. Cambodian officers have attended six month courses at military schools in China as well.
Some observers in China were anxious that the visit would run into domestic political issues in Cambodia and give the misperception to the current opposition Cambodia National Rescue Party that Beijing supports the ruling Cambodian People's Party. Although Cambodia faces flak from the international organizations over issues like human rights and democratic reforms, Beijing has declared that it does not want to interfere with Cambodian politics. Some have argued that China's independent model of development based on a liberal market economy and authoritarianism may be attractive for Cambodia.