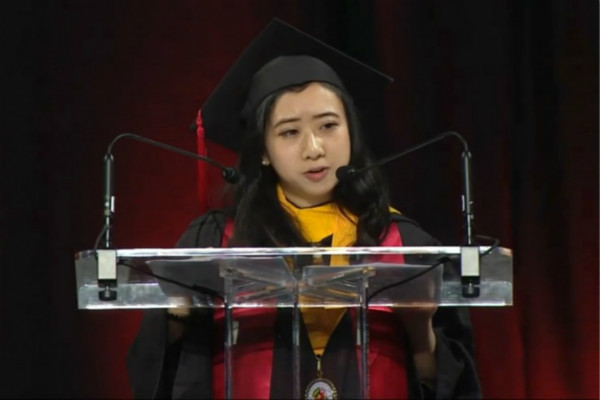 The commencement address of a Chinese citizen, Yang Shuping, at the University of Maryland sparked an uproar in China. Not only did Chinese netizens heavily criticize her for what they deemed as "untruthful" comments, they also disparaged her for insulting China. The criticism generally targeted Yang's praise of fresh air and freedom of speech in the US. While some questioned the motives behind her speech, others blamed her for demonizing and belittling China. Notably, even China's Foreign Ministry weighed in to urge Chinese citizens to make "responsible remarks."
How did the remarks of a university graduate escalate into a big issue of this kind? There are at least three reasons which can account for this phenomenon.
First, rising nationalist sentiments in China. The 21st century is an era where the internet dominates, and the Yang Shuping incident greatly exemplified the influence of the "Little Pink" (xiaofenhong) in Chinese society. This refers to young zealous Chinese nationalists who "speak" and participate actively online to defend China against external criticism. They have created cyber-rage in the past: reprimanding US singer Lady Gaga for meeting with the Dalai Lama; denouncing Taiwanese actor Leon Dai whom they deemed as a pro-independence supporter for being cast in Vicki Zhao's movie No Other Love; and calling for a boycott of the South Korean brand Lotte when the controversial Terminal High Altitude Area Defense (THAAD) was deployed in South Korea. While these young and bold internet warriors are good at whipping up nationalism and jingoism, their decisions which are based on sensationalism may be deceptive and misleading. Why are Chinese youths becoming more intolerant? Is this a sign of how their patriotism has been hijacked and replaced with narrow-minded nationalism?
This is tied to how news that has been infected with great exaggeration and information interpreted out of context spreads throughout social media. Such fake news has become a rampant global phenomenon. In China, fake news is disseminated through marketing accounts (yingxiaohao) on social media. Some features of these marketing accounts include eye-catching headlines and confusing layouts to win over readers with their excessive grandstanding. Simple and crude titles such as "99 percent of the people do not know" or "Share if you are Chinese!", and content that is based purely on binary oppositions strive to capture common readers who lack critical thinking abilities.
Yang Shuping become a target of these marketing accounts to create nationalist rage. Heated discussions were sparked on different Chinese social media platforms — Wechat, Weibo and Zhihu — to decide whether Yang's speech had "insulted China" (ruhua), and Yang's family background was revealed by netizens who had an unfettered sense of justice. This effectively ushered in profits for the marketing accounts as they enjoyed high readerships from the content peddled. Sad to say, such phenomena has become part of the digital economy's ecosystem.
Yet, it is not surprising that with China's ubiquitous and pervasive censorship capacity, news of such kind was not taken down. In February 2016, Chinese President Xi Jinping announced China's new media policy: "All the work by the party's media must reflect the party's will, safeguard the party's authority, and safeguard the party's unity." Internet censorship and nationalism turns out to be a double-edged sword for the regime, where one party rules. The Chinese state is vigorously, selectively and productively doing its censorship work when it comes to what to keep and what to expurgate. The Yang incident clearly reflects how nationalistic hysteria has been cleverly used in favor of the state to help under-gird many aspects of the leadership and regime sustainability at home.