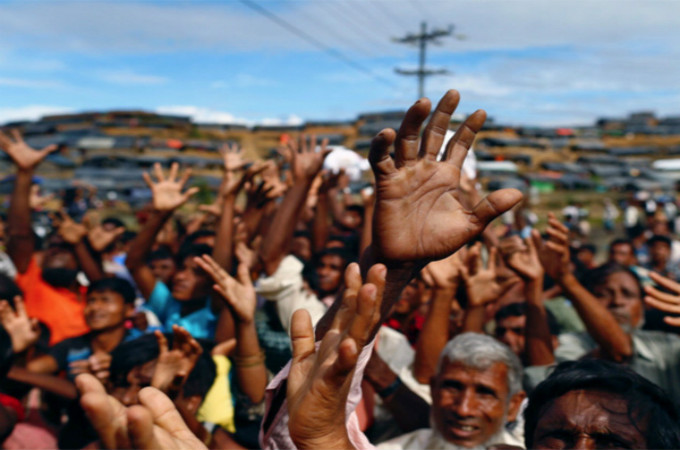 The plight of Rohingya Muslims in Myanmar has recently gained international attention, drawing criticism and condemnation from the United Nations and many Nobel laureates on Myanmar's de facto leader, Aung San Su Kyi. In August 2017, violence flared up in Myanmar when several police and army posts in Rakhine state were attacked by the Arakan Rohingya Salvation Army (ARSA), causing the death of 12 members of the security forces. This then prompted a military backlash against the Rohingya, which the United Nations has called a "textbook example of ethnic cleansing," which refers to the "forced removal of a population from a designated piece of territory."
While more than 300,000 Rohingya have been reported to have escaped from Myanmar, the global community has called for Aung San Su Kyi's immediate action to cease the violence perpetrated against the Rohingya minority. As opprobrium poured in to denounce Myanmar's government, the Rohingya issue remains complicated and long-standing, with multiple factors — historical, ethnic, religious, and political — intertwined.
Many have argued that the Rohingya crisis is part of the British colonial legacy between 1824 to 1948, with the "mismanagement of the process of independence, and the legacy Britain left behind in law, by drawing up unviable borders and by migrating cheap labor from one colony to the other," being one of the root causes of the Rohingya crisis today. Under British colonization, Muslim laborers were brought in from today's Bangladesh to Arakan (present-day Rakhine State in Myanmar) to work on farms. As Myanmar was administered as a province of India at that time, "any migration of laborers between Myanmar and other South Asian countries (like Bangladesh) was considered internal" during the colonial period.
When Japan invaded then British-ruled Myanmar, the Rohingya V-Force guerillas who had been recruited by the British to fight against the Japanese ran into conflict with the Buddhist Arakanese, the ethnic group along the coastal region of present-day Rakhine State, who had allied with the Japanese. This escalated local ethnic and racial polarization. Segregation between the two groups can be traced to as early as 1942 when communal riots (known as the Arakan massacres) broke out in Rakhine. Racial disputes intensified after Myanmar gained its independence in 1948 as the "the Burmese government still frowned upon any migration that occurred during the period of British rule, claiming it all to be illegal."
Plight of Rohingya not Unique in Myanmar
While most Rohingya uphold the Muslim faith, it should be noted that the Rohingya crisis is not just a religious feud but a collective brew of ethnic, political and religious issues. The term "Rohingya," as most of the Myanmar population construes, refers to the foreign identity of the "Bengali migrants" who moved to and reside in the present-day Rakhine state. It is an ethnic concept that encompasses not only religious practices but also the cultural characteristics (language, history, identity, values, customs, etc) of an ethnic minority.
In fact, the fate of the Rohingya is not uncommon and unique in Myanmar. Myanmar has long been haunted by civil war and internal conflicts due to its multifaceted and complex ethnic mix. There are more than 135 ethnic groups in Myanmar and "at least 21 ethnic armed organizations (EAOs) fighting for equality and regional autonomy for nearly seven decades." Frequent crackdowns on ethnic minorities by the military to safeguard the country's sovereignty have led to skirmishes between Myanmar's armed forces and the EAOs.
---
Researchers opined that "the conditions in Rakhine are ripe for the influence of extremist stimuli, including the infiltration of Islamic State ideology, which may worsen the situation in Myanmar."
---
At the north western border of Thailand with Myanmar lies the Mae La refugee camp that houses more than 100,000 refugees, in which more than 90 percent of the refugees in the camp consist of ethnic Karen and Karenni, and which has been reported to have poor sanitation, food shortages, inadequate healthcare, and a high suicide rate. Such camps on the Thai border have been in existence since the mid-1980s as refugees flocked to Thailand to avoid conflict between the EAOs and the Myanmar military. As the Karen National Liberation Army (KNLA) continues to fight for its own sovereign state, few have returned home as the crisis is unpredictable and peace remains subject to volatile dynamics.
From Domestic Issue to Regional Concern
As the global community point their fingers at the brutality of Myanmar's government, the country's internal conflict has become a regional problem. Myanmar's centuries-old ethnic conflicts have led to its fraying relations with neighboring countries.
Poor and overpopulated, Bangladesh has been the most affected by the exodus of Rohingya refugees since it opened its border on August 25. As more refugees pour into the nation, the stateless migrants now face the threat of repatriation and humanitarian crisis "as authorities struggle to provide even basic facilities for the new arrivals."
Quartz reported that: "Following the latest bout of strife, some 415,000 more have crossed into Bangladesh, as per the latest estimates from the UN, many with burns, bullet wounds, and, lately, mine injuries. But around 40 percent of these do not have access to primary health services, and nearly 300,000 people, including 154,000 children under the age of five and 55,000 pregnant women, are in need of food assistance."
Geographically located in Southeast Asia, Myanmar's nearby Muslim-dominated nations, "particularly Indonesia and Malaysia, condemned Burma's ill treatment of their co-religionists." Rallies were held in Kuala Lumpur, Jakarta, and Bangladesh "to protest the alleged state-endorsed brutality against the Rohingya Muslims in Myanmar." Moreover, Myanmar's ethnic feud was not favourably perceived by the multiracial Southeast Asian countries which are trying to strengthen and promote social cohesion and racial harmony. With many Southeast Asian countries carrying historical baggage of internal ethnic conflicts, Myanmar's Rohingya crisis raises fears of ethnic tensions that could whip up racist sentiments and lead to a domino effect which could disrupt their hard-earned racial harmony.
Given the disadvantaged state that the Rohingya are facing, researchers opined that "the conditions in Rakhine are ripe for the influence of extremist stimuli, including the infiltration of Islamic State ideology, which may worsen the situation in Myanmar." With some national leaders' lack of strong commitment to multi-ethnicity, radical Islamic organizations could become platforms for refugees who face high discrimination and social deprivation to seek their life purpose and fuel their anger and grievances. In the Philippines, radical Islamist groups are rapidly recruiting militants at poverty-plagued Marawi by offering monetary rewards and food.
While there is no quick fix to the Rohingya issue, international effort and transboundary collaboration from regional players will be needed to deal with the crisis and prevent Myanmar's domestic troubles from turning the South and Southeast Asian region into "fertile grounds" for terrorism.