China's Belt and Road Initiative (BRI) which spans more than 60 countries has been a catalyst for global trade and investment growth.
Recently, the Big Data Report of Trade Cooperation under the Belt and Road Initiative revealed that the 64 countries participating in BRI contributed to 16 percent of the world's GDP and 43.4 percent of the world's population. Total foreign trade amounted to USD 7.19 trillion, accounting for 21.7 percent of total world trade, which is lower than in 2014 and 2015 which stood at 23.9 percent and 22.1 percent respectively (see Figure 1). Singapore, India, Russia, Thailand, and Poland are among the top five countries with highest total foreign trade.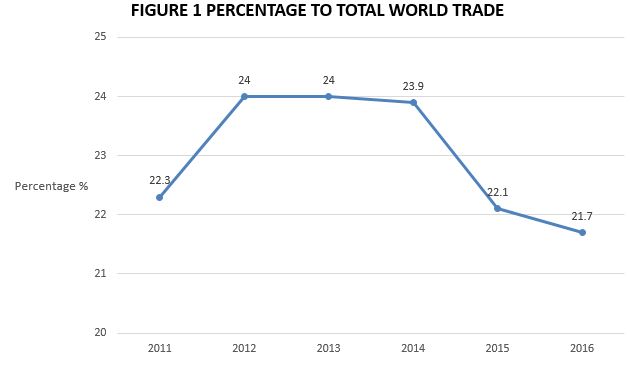 While trade between China and the BRI countries has increasingly contributed to a higher percentage of China's total trade in 2016 (see Figure 2), the total amount of trade between China and the BRI countries was 4.9 percent lower at USD 953.6 billion in 2016 as compared to the previous year. This was due to the sluggish global economy and lower international commodity prices.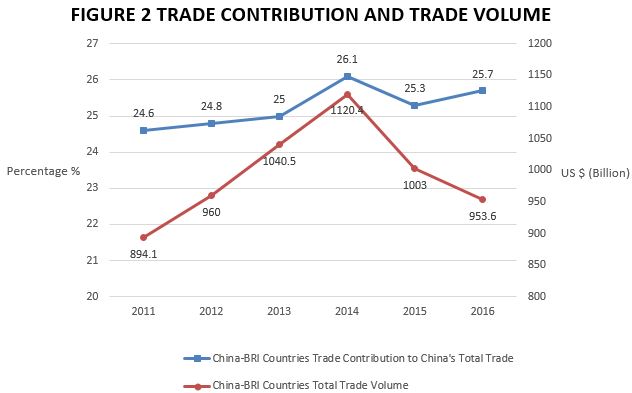 China's export volume to BRI countries stood at USD 58.75 billion in 2016, contributing 27.8 percent to China's total exports. While export volume decreased by 4.4 percent, the percentage contributed to China's total export is 0.9 percent higher than the preceding year.
In contrast, China's imports from BRI countries dropped by 5.7 percent to stand at USD 36.61 billion in 2016. Imports from BRI countries continued a declining trend to stand at 23 percent of China's total imports.
In terms of trade structure, China has a trade surplus with 52 BRI countries and a trade deficit with 12 countries. India had the largest trade deficit of USD 47.1 billion while Malaysia reported the largest trade surplus of USD 11 billion.
Among all regions, the Southeast Asian region is China's largest import source and export destination. Trade with Southeast Asia alone reached USD 45.54 billion and contributed 47.8 percent to China's total trade with all BRI countries. Specifically, Vietnam replaced Malaysia as China's largest trading partner among all BRI countries. South Asia and Egypt ranked behind Southeast Asia to record a trade volume of USD 21.52, which is 22.6 percent of China's total trade with all BRI countries. On the other hand, Eastern Europe and East Asia are the two fastest growing regions along the BRI in terms of trade with China.
Overall, private enterprises accounted for the highest share of exports recorded at 58.9 percent, followed by foreign enterprises and state-owned enterprises which accounted for 27.8 percent and 13.1 percent respectively.
In terms of investment, China had USD 1.45 billion in outbound direct investment (ODI) in the BRI countries, which comprised 8.5 percent of China's total ODI and is 2 percent lower than the USD 1.482 billion of ODI in 2015. The main BRI countries to receive China's ODI are mostly from Southeast Asia - Singapore, Indonesia, India, Thailand, and Malaysia.