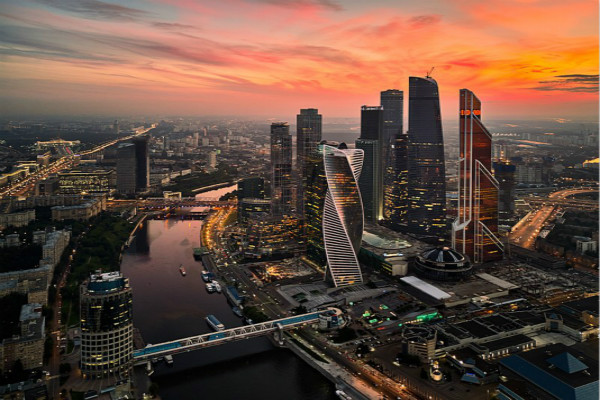 In 2012, President Putin stood proudly as Nobel Prize-winning economist Paul Krugman told Russian audiences about how the country was benefitting from their independent economic operations against the global financial crisis. Krugman even pointed out that Western countries underperformed compared to Russia at the time. During this period, almost all economic decisions rested with the President, offering no hope for diversification of the country's resource-based economy.
When the energy prices plummeted, the Russian economy received a massive blow, defined by the extreme drop in energy prices. Even today, the prices for oil and natural gas are significantly lower than when they peaked in 2011 and 2012. Nevertheless, the country avoided financial ruin thanks to the Central Bank of Russia, led by two-time European Central Banker of the Year Elvira Nabiullina.
Since the energy market collapsed, Russia has started opening their doors to other countries, both for political alliance and economic relationships. One prominent example is when King Salman of Saudi Arabia visited Moscow last October. Both countries had been on opposite sides regarding Syria's civil war, with Russia backing the current regime of President Bashar Al Assad and Saudi Arabia supporting the Syrian rebels. Although the war has been destructive, the two heads of state were able to put differences aside to meet to discuss the country's economic growth.
This type of openness and compromise is relatively new for an authoritarian leader like Vladimir Putin. Some see it as one of the signs that the Kremlin may be taking new courses of action to benefit the country's economy. To understand this further, here are 5 signs Russia is changing the way it does business.
Deal with Organization of the Petroleum Exporting Countries (OPEC)
The meeting of President Putin and King Salman was in relation to the deal made between OPEC, where Saudi Arabia is included, and Russia. Both countries suffered when oil prices collapsed back in 2014. "As the two largest oil producers in the world, [Russia and Saudi Arabia] have the heaviest burdens to see the oil markets stabilize," explained Russia's Energy Minister Alexander Novak. The former has long been reliant on the revenue brought about by their energy exports, while the latter experienced a rise in unemployment due to the price drop. The arrangement of the deal was to cut oil production in December 2016, and global oil prices surged as a result.
Strengthening Business Relations with the US
Another country Russia has been reaching out to from a business standpoint is the United States. Although there is political friction between the two territories over alleged meddling in the last US Presidential Elections, Arkadium CEO and co-founder Jessica Rovello highlighted that business relations have been well. The New York-based company also employs over 63 people in Krasnodar, a city in southwest Russia, and politics hasn't been a detriment to their operations.
Russian-American Chamber of Commerce president Sergei Millian provided a bigger perspective, specifying that there are over 10,000 similar businesses operating between the two countries. Collectively, they employ about 3 million people.
Implementing Government Blockchains
Russia has always embraced technology in many of their systems. Coinwire reported they recently implemented Blockchains as new mediums for financial transactions, becoming one of the first countries to formally recognize and use the technology. State-controlled financial institution Sberbank officially announced their collaboration with Federal Antimonopoly Service (FAS) for the implementation. "Making the system launch a reality means we are not only one of the first actual users of Blockchain for government in the world, but also [are pioneering its use] as a practical tool for further growth," explained FAS state secretary and deputy head Andrey Tsarikovskiy. Despite this, however, the country is still strict when it comes to cryptocurrency use mainly because it's a foreign-made currency. Instead, they have other plans with regards to foreign and global markets.
Selling Eurobonds
The country's finance ministry issued two tranches of Eurobonds worth $3 billion each this year, catering to the demands of many global bond investors. This came just a few days before the US imposed new sanctions against Russia. Some analysts have argued that the US sanctions may have increased the demand for Russian Eurobonds, especially since it kept Moscow away from international bond markets. Andrey Kostin, head of state-run bank VTB, claimed that foreign money managers showed big interest over their Eurobonds, and refers to it as "normal market deal".
New Energy Projects
Other than the US sanctions, Russia still has to deal with the 2014 collapse of energy prices. Aside from the OPEC deal, the country has also started taking on projects that would help reinvigorate the oil industry. One in particular is Rosneft's venture in Kurdistan, developing over $400 million worth of projects. Even President Putin sees this venture as an economic benefit for Russia as well as Kurdistan and Iraq.
With so many geopolitical events happening with Russia, they're still bent on recovering from their economic crisis a few years ago. They're now using political means to return financial stability for their country which, by the looks of things, is proving to be effective.