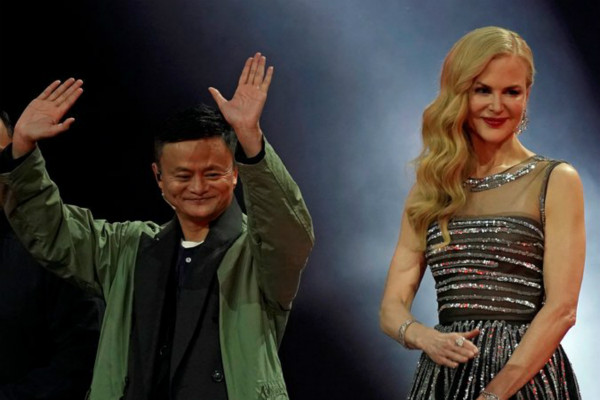 The 2017 Alibaba's Singles Day in China has witnessed a nation-wide online shopping blitz fetching sales of RMB 254 billion (USD 38.2 billion). The e-commerce juggernaut Alibaba "accounted for 66.2% of the pie, posting yet another year of record sales of RMB 168.3 billion (USD 25.4 billion)," a 39 percent increase from last year (see Figure 1).
Notably, about 90 percent of these online transactions were completed through mobile services as China's mobile users exceeded 1.3 billion last year. China's online-payment services, in this case Alipay, together with the proliferation of mobile devices, have facilitated online transactions without much hassle.
Figure 1. Alibaba's Singles Day Sales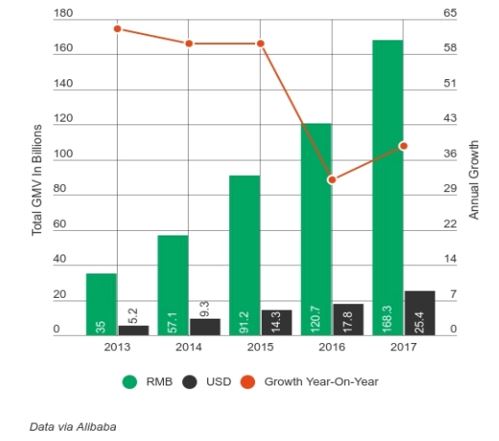 China's Singles Day was initiated by students from Nanjing University in 1993 to celebrate singledom and to reward themselves and others who are single. In 2009, Alibaba turned this day into an e-shopping festival with brilliant marketing to drum up sales. Today, the shopping craze is no longer just a phenomenon in Alibaba but is also a nation-wide festival. It was reported that "the sheer size of China's e-commerce industry is staggering since Nov 11 was rolled out nine years ago." For example, "JD.com, the perennial challenger to Alibaba's e-commerce empire in China, gained RMB 127.1 billion (USD 19.14 billion) in sales." Many department stores and retail shops in China launch promotions on November 11 to market their brands.
Moreover, Alibaba's Singles Day has extended its reach to regions beyond China, bringing the online shopping trend to overseas consumers and brands. In Singapore, "local e-commerce sites such as Qoo10 and Lazada are offering special deals available only on Singles' Day." Earlier this year, "Alibaba expanded into Southeast Asia with its USD 1 billion (SGD 1.4 billion) acquisition of Singapore e-commerce firm Lazada Group." Lazada operates in six Southeast Asian countries including Indonesia, Malaysia, the Philippines, Thailand, Vietnam, and Singapore. Singles Day this year has reaped Lazada USD 123 million in sales, representing a 171 percent hike from the figure last year.
Alibaba's winning streak to form tie-ups in Southeast Asia is supported by a few important moves. First, its founder and chairman Jack Ma's ambition in establishing a global e-commerce platform which he proposed during the G20 Business 20 Forum in St. Petersburg, Russia, has slowly come into realization. In June 2017, Alibaba rolled out Tmall World in Singapore, Malaysia, Hong Kong, and Taiwan to allow overseas Chinese to make purchases more conveniently from the platform. Also, under Alibaba's Electronic World Trading Platform strategy, an e-hub which aims to help global small and medium-sized enterprises (SMEs) through its logistics and financing arms was set up in Malaysia. In Thailand, Alibaba promised to help advance the country's e-commerce sector under the "Thailand 4.0″ initiative by providing training and empowering Thai SMEs with logistics capabilities. In Singapore, Alibaba invested an additional SGD 279.1 million in Singapore Post in 2015 to strengthen its logistics network and ability to handle different operations of the e-commerce chain.
For the first time on Singles Day, "Tmall is bringing 100 Chinese brands overseas, targeting 100 million Chinese consumers in Asia and the rest if the world." This year's Singles Day Gala also saw Jack Ma bringing together many "A-list international celebrities, including One Republic, basketball legend Kobe Bryant, and sports celebrity David Beckham" , in an expensive marketing strategy to better reach out to overseas audiences for the e-shopping festival.
As Ma remarked: "New Retail will bring about a restructuring of the global supply chain and change the complexion of globalization from the domain of big companies to small businesses." Alibaba's grand ambition to fulfil its global footprint aspires to capture the global online and offline retail ecosystem through leveraging its competitive advantage in fintech, logistics network, consumers' data, and merchandising capability. Alibaba's Singles Day jamboree must thus not be comprehended as just a single-day shopping event but as an illustration of Alibaba's ambitious plan in shaping the future of retail.