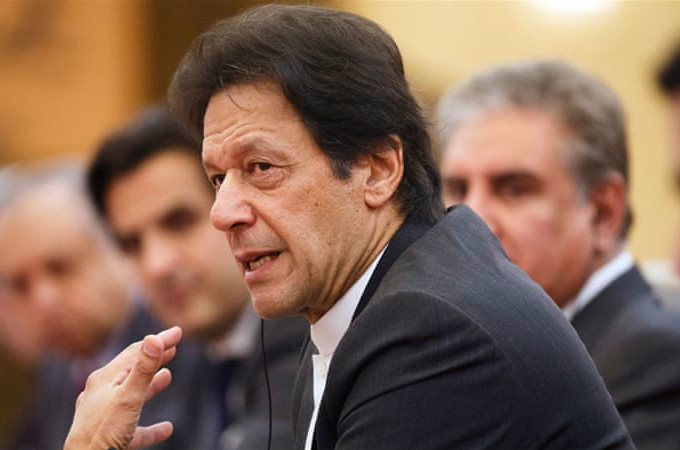 Pakistan Prime Minister Imran Khan won the election in July 2018 using the slogan of "Naya Pakistan" (new Pakistan) where there would be no space for corruption, dynastic politics and red-tape. Khan, along with his party — Pakistan Tehreek-e-Insaf (PTI), had focused specifically on reaching out to the youth, who were tired of mainstream political parties. Khan also had the backing of the all-powerful military.
One year down the line, Khan is finding himself in a weak position for more than one reason. On crucial strategic and foreign policy issues, the Pakistan Army is clearly running the show. For all of Islamabad's problems, Khan is getting stick from the opposition as well as experienced commentators.
Kashmir Rhetoric and Criticism from Opposition
Recently, there had been sabre rattling by Khan and his Federal Minister for Railways Sheikh Rasheed in response to India's decision to revoke special status to Jammu and Kashmir provided by Article 370 and 35A.
During an address to the Pakistani people on August 26, 2019, Khan stated that he would internationalize the Kashmir issue. While he should not be blamed for some rhetoric given his domestic political constraints, he lost all sense of balance and equanimity when he threatened a nuclear war if nothing is done to resolve the Kashmir dispute. In an op-ed penned for The New York Times, Khan again warned of dire consequences if the world does not pay significant attention to the Kashmir issue. He cautioned that the two South Asian nuclear powers could even go to war. Later on, while addressing a gathering of Sikhs from India and other parts of the world, Khan stated that war between two nuclear armed states was dangerous and that Pakistan would not use nuclear weapons first.
Rasheed, known for indulging in unnecessary rhetoric, said on August 28 that there would be a full blown war between India and Pakistan in October or November. He went to the degree of saying that this war with India "will be the last". Rasheed also said that Pakistan is in possession of small 125-250-gram atom bombs which can strike a targeted area.
Meanwhile, Pakistan's mainstream political parties lashed out at Khan and said that he had failed Pakistan on the Kashmir issue. During a joint session in the national assembly, Pakistan Muslim League (Nawaz) (PML-N) leader Shehbaz Sharif accused Khan of "selling the future of Kashmir". The Pakistan People's Party (PPP) also lost no opportunity in accusing Khan of selling Pakistan's interests while unnecessarily targeting opposition leaders.
A number of opposition leaders had been arrested and opposition parties stated that these arrests were driven by political vendetta and nothing else. Leaders who are currently in prison include: Asif Ali Zardari of the PPP, Hamza Shehbaz (leader of opposition in the Punjab Assembly and son of Shehbaz Sharif) and Maryam Nawaz Sharif (daughter of former PM Nawaz Sharif). Maryam Nawaz, arrested on August 8, tweeted that Khan was more obsessed with fixing his political opponents and less concerned about dealing with the challenges facing Pakistan. She also asked about Khan's meeting with US President Donald Trump, and whether he had "walked into a trap".
Currently, Khan faces two challenges: the Pakistan Army and the domestic economy.
The Pakistan Army
First, there is no doubt that Khan is dependent upon the Pakistan Army. A report prepared by the Congressional Research Service (CRS) for US lawmakers stated that most analysts see Pakistan's military establishment continuing to retain dominant influence over foreign and security policies.
Although Khan and the army are on the same page on important economic and foreign policy matters, Khan has some say given his popularity. Many analysts also perceived Khan's cordial relationship with the army as an asset, especially on crucial foreign policy issues.
---
Khan is to be blamed for his simplistic attitude towards complex economic challenges and unnecessary obsession with targeting his political opponents. By doing so, he has played into the hands of the army.
---
However, things had not panned out very smoothly.
A three year extension was granted to the Chief of Army Staff (COAS) Qamar Javed Bajwa on August 19 with "regional security environment" cited as reason. It removed any doubts that the army is running the show; many went to the extent of dubbing this as a soft coup. There were increasing murmurs that the army was not satisfied with Khan's handling of the economy as well as foreign policy issues. Some important decisions such as removal of Asad Umar as Finance Minister and appointment of Ijaz Shah, a controversial pro-establishment man, as Interior Minister, were also done under pressure from the Pakistan Army.
The Pakistan Army has become useful to the US due to Washington's desire for an early exit from Afghanistan. It has become a facilitator of talks between Washington and the Taliban. During Khan's US visit, Bajwa had a meeting with senior officials from the Pentagon. Bajwa was received by Chairman of the Joint Chief of Staff General Joseph F. Dunford, and also met with the Chief of Army Staff and acting Secretary of Defense Richard V Spencer. According to reports, one of the key areas for discussion was Pakistan's role in the peace process in Afghanistan.
When some senior officials from Khan's government made a statement in September 2018 that certain projects of the China Pakistan Economic Corridor (CPEC) may be reviewed, Beijing was not happy. It was Bajwa who stepped in and dubbed the project as the "future of Pakistan". China welcomed the extension granted to Bajwa, calling him an old friend. In August 2019, Bajwa met with China's Central Military Commission Vice-Chairman Xu Qiliang, who visited the Pakistan Army's headquarters in Rawalpindi. Amongst other issues, the situation in Kashmir was also discussed.
The Pakistan economy
The abysmal state of Pakistan's economy has also been drawing attention. The country's fiscal deficit rose to 8.9 percent for the financial year 2018-2019, higher than the previous year's 6.6 percent. Inflation as of July 2019 was a whopping 10 percent year on year.
Khan had to make personnel changes to his team because there was a growing perception that the government could have performed better on the economic front but things only got worse. Finance Minister Asad Umar, considered a close confidante of Khan, was replaced by Dr Abdul Hafeez Sheikh whom Khan appointed as his Adviser on Finance. Pakistan State Bank Governor Tariq Bajwa was replaced by Reza Baqir, an economist who has nearly two decades of experience with the International Monetary Fund (IMF).
Khan sought the assistance of a number of countries to bail out Pakistan's economy, including Saudi Arabia (which provided a USD 6 billion aid package) and China. Pakistan also managed to get an IMF bailout package of USD 6 billion with stringent conditions. Recently, the Asian Development Bank also committed assistance to the tune of USD 7 billion for development projects in Pakistan.
Khan's Adviser for Commerce, Textile, Industries, Production and Investment Abdul Razzak Dawood pointed out that it is unfair to expect a sudden reversal given the nature of challenges. He stated, "It is naïve to expect instant results of policy changes in the economy which is complex with multiple tangible and intangible factors influencing the final outcome. There is always a time lag before the impact of changes plays out."
Khan's problems do not end here. In the Financial Action Task Force (FATF) meeting of October 2019, Pakistan is likely to be blacklisted. In August, at a meeting of the Asia Pacific Review (APG), an affiliate of FATF, it was found that out of the 40 parameters for blacklisting, Pakistan had failed to comply in 32 of the parameters pertaining to terrorism and money laundering. Pakistan was placed in the "enhanced blacklist", and there is a real threat of Pakistan being blacklisted in October.
Conclusion
It would be fair to say that the Imran Khan government's economic challenges are likely to exacerbate and Khan is likely to become more dependent upon the army. Khan is to be blamed for his simplistic attitude towards complex economic challenges and unnecessary obsession with targeting his political opponents. By doing so, he has played into the hands of the army.
While it would be impossible for him to assert himself vis-à-vis the army right away, mending fences or at least having a working relationship with opponents would be a far better option. Besides disappointing his supporters, Khan's inability to deliver has definitely benefited the Pakistan deep state. It remains to be seen if he understands the need for altering the civil-military relationship or is satisfied with occupying the PM chair but wielding no power.