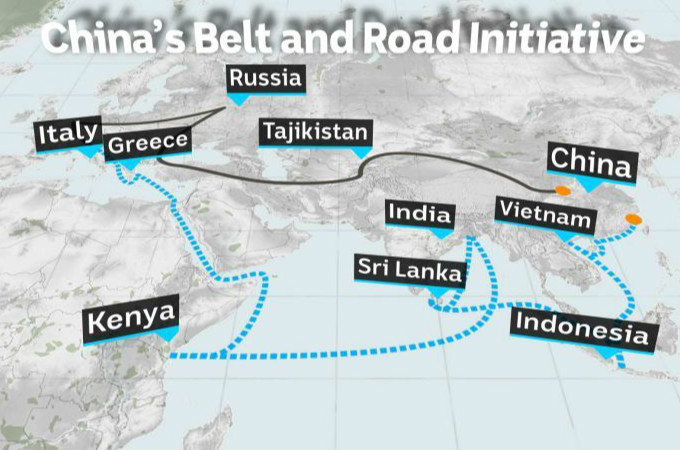 Alice Wells' Criticism
Alice Wells, the Principal Deputy Assistant Secretary of State for South and Central Asia at the US Department of State, recently criticised China's Belt and Road Initiative (BRI) for lacking transparency and being economically unsustainable. While speaking at the Woodrow Wilson Centre, she made it clear that the US offers developing countries sustainable and transparent models of cooperation, to the benefit of local populations. Wells provided examples of how the US was creating jobs not just in Pakistan, but in Kazakhstan.
While she cited several examples to reiterate the shortcomings of the BRI as a whole, Wells was especially critical of the China-Pakistan Economic Project (CPEC). 'Together with non-CPEC Chinese debt payment, China is going to take a growing toll on Pakistan's economy, especially when the bulk of payment starts to come due in the next four to six years', she said.
As was expected, Pakistan rejected Washington's criticism of the BRI. Pakistani Foreign Minister Shah Mehmood Qureshi stated that Pakistan was expediting the CPEC, and that, out of the total debt of $74 billion, debts related to the CPEC were below $5 billion. He also stated that the BRI would help to enhance regional cooperation. Other cabinet members of Imran Khan's cabinet echoed Qureshi's views, arguing that this project was a game changer.
The Chinese Ambassador to Pakistan, who reacted strongly to Wells
'
accusations of the CPEC, stated that they were not based on facts, and that, unlike Washington, Beijing came to Pakistan's rescue.
Imran Khan

'

s Government and the CPEC
It would be pertinent to point out that members of Imran Khan's government expressed concerns regarding the CPEC. Abdul Razzak Dawood, Imran Khan's advisor on Commerce, Industry and Production, Investment and Textiles, was quoted by the Financial Times as having spoken of the need for renegotiating certain projects related to the CPEC, given the adverse impact they had on local industries. The Pakistani government was off course quick to issue a denial and stated that Razzaq was quoted out of context. Pakistani Railway Minister Sheikh Rasheed stated in October 2018 that Pakistan could not afford $8.2 billion for upgrading the railway line from Karachi to Peshawar.
Statements by members of Imran Khan's cabinet, which were obliquely critical of the CPEC, were not taken to kindly by Beijing, and both Pakistani Prime Minister and Army Chief made statements hailing the BRI. Bajwa visited China days after Razzak's statement in September 2018. He then sought to dispel misgivings about the BRI. The Pakistani Army obtained a 3-year extension in August 2019, referred to by senior Chinese officials as an 'old friend of China'.
It is not for the first time that Washington has come down heavily on the BRI and the CPEC.
The US stated earlier that it would not allow loans from the IMF to be used by Pakistan for servicing debts. The IMF has granted a loan but with severe conditionalities, demanding greater transparency from Pakistan. Under pressure from the US, it is believed that Pakistan has slowed down part of the CPEC.
Other Instances of the BRI Leading to Debt
Wells mentioned the example of Sri Lanka, where the Hambantota Project was handed on lease to China for 99 years. Well over $1 billion
Chinese loans
were used for constructing a port, but Colombo could not service the debt. Beijing wrote off $1.1 billion of Sri Lanka's loans after taking over the port. She also mentioned the instances of Myanmar and Maldives, where there was local resentment against Chinese-funded projects. In Myanmar, China was forced to reduce the cost of the Kyaukphyu deep-sea port project from $7.5 billion to $1.3 billion (in this instance, it was not just the economic implications of the BRI that were drawing flak, but its overall environmental implications).
Wells cited a report published by the Centre for Global Development in 2018, which refers to 8 countries at a 'high risk of debt distress' including Pakistan, Maldives, Tajikistan and Kyrgyzstan.
Obama's Efforts Towards Providing a Counter Narrative to the BRI
During the Obama administration, there were efforts to enhance connectivity under his strategy of 'Pivot to Asia' and to revive the
'
Silk Road
'
(this vision was very similar to the BRI, especially in the context of enhanced connectivity and trade linkages between South and Central Asia). Obama was also keen to push free trade through the Trans Pacific Partnership (and to further US strategic goals in Asia).
Trump Administration's Efforts Towards Countering the BRI
It is true that the Trump Administration, too, is pursuing the vision of 'a Free and Open Indo-Pacific'. One of the steps taken by the administration includes setting up of the US International Development Finance Corporation (DFC), founded under the Better Utilisation of Investments Leading to Development (BUILD) Act of 2018. The DFC seeks to combine the Overseas Private Investment Corporation (OPIC) with the Development Credit Authority (DCA). The DFC is important because it has been empowered with equity investments. Its aim is to attract more private sector investments into emerging markets with a $60 billion development aid.
One of the major reasons for China
'
s BRI being virtually unchallenged is that, under the vision of
'
a Free and Open Indo-Pacific
'
, the US has been unwilling to take a clear and decisive leadership role in the area of connectivity.
Second, while the Quad Grouping (US, Australia, India & Japan) has spoken of providing an alternative to the BRI, the US is cooperating with Australia and New Zealand in the Pacific, with a number of pilot projects in the area of infrastructure and energy initiated in different parts of the Indo-Pacific. The pace and scale, though, leaves much to be desired. It is also important to note that countries within the Quad are not on the same page on a number of issues. Japan and the US have differences over trade issues, and so have India and the US. Both Japan and India, while sharing a close strategic relationship with Washington, are reluctant to alienate Beijing, given Washington's u
npredictability in terms of economic issues.
Japan has tried to come up with an alternative to the BRI, and in a number of countries in South East Asia, South Asia and Africa, it is actually beginning to increase its presence in a strategic manner. Positioned as a counter to the BRI, the Partnership for Quality Infrastructure (PQI) marks a shift in Tokyo's thinking. Significantly, even in countries like Cambodia, where Chinese influence has increased in recent years, Japan is beginning to increase not just investments in infrastructural projects, but in development assistance, which rose from $119.7 million in 2016 to $171.8 million in 2018. Cambodia itself has been encouraging more Japanese investments. Cambodian Prime Minister Hun Sen stated that the country would need more Japanese investments, not just because of the quality of Japanese goods, but because they create jobs and help improve working standards of Cambodian workers.
The other point to be kept in mind is that China has been willing to correct and address faulty perceptions. This includes its willingness to renegotiate projects and dispel the notion of promoting its own economic interests. During his address at the Forum on China-Africa Cooperation
'
s 2018 Summit in Beijing, Xi Jinping sent a clear message that China would seek to address these challenges and was keen to focus on capacity building in Africa and to invest in the continent's long-term economic growth -- especially its human resources (critics are rightly skeptical of China's links with Africa, but in terms of allaying certain apprehensions, Beijing has been taking some significant steps). Likewise, while the US is imposing restrictions upon immigrants and foreign students, China is offering scholarships to students from countries that are part of the BRI.
It would be pertinent to point out that Washington
'
s lack of predictability in terms of connectivity is not the only issue that is helping Beijing. China has been sending out clear signals on other issues, such as its call for a multilateral trade and a multipolar order. A perfect instance of this is speeches by the Chinese leadership. While Xi Jinping's speech at the World Economic Forum (WEF), Davos, is often cited as a clear reiteration of Beijing's initiatives, other Chinese leaders have also argued in favour of globalisation, free trade and a multipolar order. More recently, at a meeting of G20 foreign ministers held at Nagoya, Japan, Chinese Foreign Minister Wang Yi raised the red flag when it came to unilateralism and protectionism. He did not miss out on the opportunity to lash out at the US for promoting protectionism and undermining multilateralism.
Trump, on the other hand, has been insular. One of his initial moves is to pull out from the TPP. It is not just Trump, but even most of the presidential candidates of the Democratic Party, who share views on a number of economic issues, in particular the TPP.
Conclusion
Mere criticism is not enough. Washington should come up with a feasible alternative to the BRI. It is in the best position to come up with a sustainable alternative, yet it needs to provide leadership and work closely with other countries not just on connectivity, but on issues pertaining to trade. An excessively transactional and insular US would only strengthen Beijing. While there remains a number of reasons to be skeptical of the BRI and its long-term implications, it is also important to have an alternative vision in place.